Gallery Lulo - A SERIES OF ARTISTS PORTRAITS
"If anybody wants to keep creating they have to be about change." Miles Davis.
The drastic and sudden change we all have had to endure inspires collaboration, creativity, community, and vulnerability. For us at Lulo, the temporary closure allows us more time to go behind the scenes of the work we represent and highlight a group of artists, beginning with people living in our immediate community of Healdsburg.
The individuals are captured by Sonoma County based artist Alice Warnecke Sutro, who through choreographed and collaborative images sent to her by the individuals - sketches and represents her own artistic process in digital format. Alice is an artist, writer and wine producer of Sutro Wine living and working at the historic Warnecke Ranch - family owned since 1911. We have had the pleasure of working with Alice in the past for a series of portrait sessions here at Lulo. For more about Alice's work and life read here.
DIANNA BADALAMENT
We met Dianna Badalament many years ago, before she moved to Healdsburg, through her jewelry work with Karen Gilbert. Since then she has moved to town, become a mother and a cherished part of our jewelry representation here at Lulo. Dianna also works with an amazing organization "Her Future Coalition", helping women of abuse in India, learn skills to support themselves through jewelry making.
Dianna is originally from New York and has a B.A. from University at Albany, New York. She studied the classical techniques of metalworking at Jewelry Arts Institute in New York City and Revere Academy of the Jewelry Arts in San Francisco, where she completed the School's Jewelry Technician Intensive Program.
Read more about Dianna here.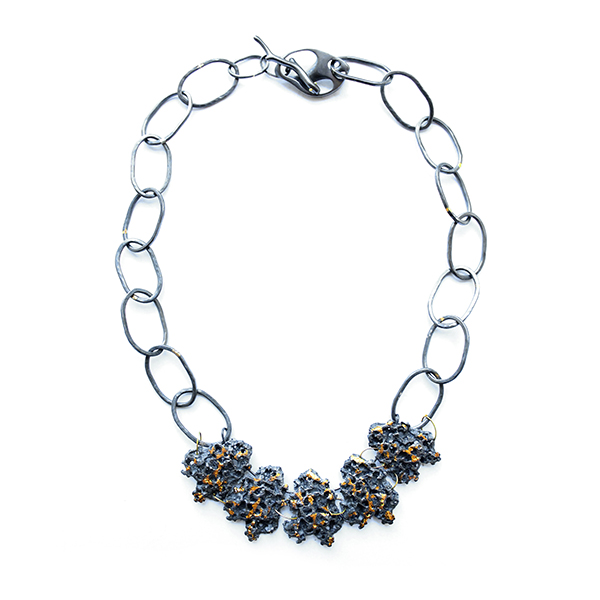 Salatia Gold Multi Necklace
sterling silver statement necklace with honeycombed worn seashells, handmade chain and 24k and 18k gold.
You are a native New Yorker. What inspired the move to Sonoma County and Healdsburg?
I do love NY so much, from the beach to the City. I really love my Long Island roots and the natural environment there still impacts my work. But, I also fell in love with skiing and I spent years as a weekend warrior getting myself to Vermont. So pretty impulsively, after a trip to Lake Tahoe to ski, I dropped everything and moved there. When you want to ski most days, you need to work at night, and like most who want to ski, I inverted my life and began working in restaurants (I did that in NY too, but not full time). Working in a restaurant in Squaw Valley, I met the love of my life and married him. Meanwhile, we were learning more and more about wine and both became very passionate about it. We actually wanted to open a California-centric wine store back in NY, but, I decided I wanted to do some thing more creative and rekindled my love of goldsmithing at the Jewelry Arts Institute in NYC. My husband pursued a degree in Viticulture and Enology at UC Davis and shortly after his degree, we settled in bucolic Sonoma County because of the climate, varietals and proximity to the ocean. We didn't know the community was going to be so amazing!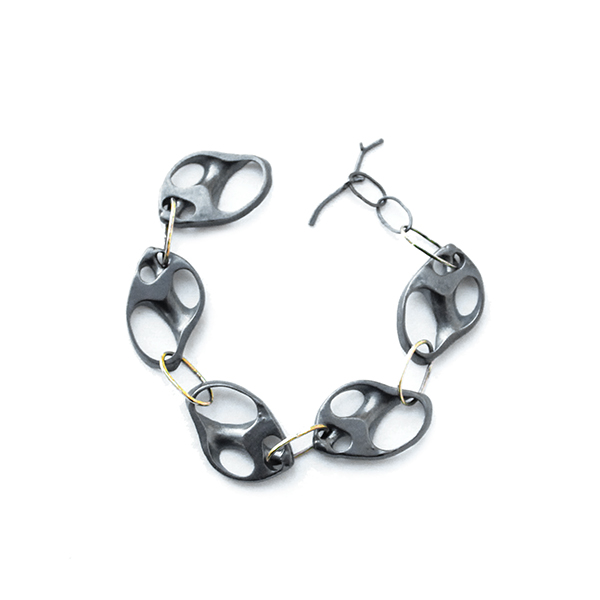 When did you decide to become a jeweler, how did this begin?
I've always loved jewelry and tried to make adornments, mostly out of scallop shells I beach-combed that had little holes ready for some string; these are some of my oldest, treasured memories. I also loved my mother's jewelry box. I was always in it, laying out all the fine jewelry and studying it...I was especially in love with an 80 carat, emerald cut aquamarine and platinum ring. I first fluxed a piece ofsterling silver and held a jeweler's torch in a high school art elective jewelry class. I loved it so much. I wish I had embraced it all sooner but your journey is journey...for some reason I didn't think I could pursue it in earnest as a livelihood. After many, many years of other journeys and finally transitioning out of the backbreaking work of restaurants, I decided I really wanted to hold a torch again. So I took some classes at the Jewelry Arts Institute in NYC where I held a torch for the first time since high school, and I was all in, hook, line and sinker. The torch just felt like an extension of my hand, like it completely belonged there, and I knew I didn't want to do anything else. Then, I studied at the Revere Academyof the Jewelry Arts in San Francisco studying under Alan Revere. Goldsmithing is truly a remarkable craft, it is hard to ever be finished learning and experimenting. It is what makes it so challenging and one of the things I love about it. There is just so much to explore: so many techniques and skills, so many problems tosolve, so much beauty to try and craft.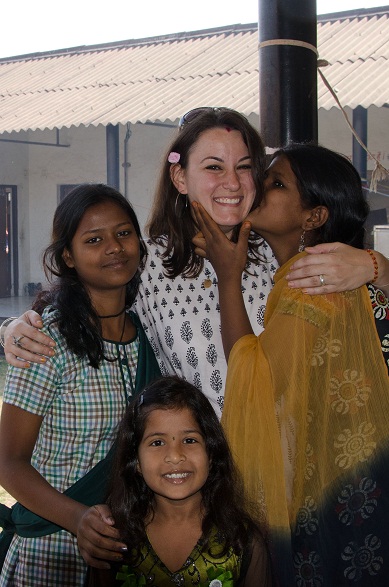 I know a large part of your life is working with women in India who have been victims of assault and sex trafficking. What is the story behind your work with the organization "Her Future Coalition"?
Yes, it is the passion of my life, and this year marked the 10 year anniversary of our jewelry program. For the last decade I've been traveling back and forth to India to train survivors of severe gender violence (including child marriage, human trafficking and extreme poverty) how to goldsmith; making them some of the first women goldsmiths in India, as it is a trade passed down from father to son. We wanted to create a skill and program, from training to production, for these young women, many of whom had little or no education but were in their teens and early twenties. The goal was to give them a skill that would ensure their economic independence which solidifies their freedom, as well as, the skill doubling as art therapy helping them heal. Also, with that economic freedom and good wage, we hoped the terrible stigma against survivors would change. And, it did. Our young women became leaders in both their families and their communities, some have learned English, business, computers and CAD! As we look back, we see that meaningful, long-term intervention works. We plant seeds for growth and it takes time to nurture, but trauma healing and learning a complicated craft doesn't happen overnight. We've had some failures along the way of course, but certainly more successes. Ultimately, the young women we worked with love seeing their bank accounts grow and loved having support and a safe place and stuck with us, and we are all seeing the positive growth and rewards. It has been truly inspiring and wonderful to witness. We are celebrating our successes, and the fruits of our "planted seeds" with a brand new jewelry line and market called Cardamom Jewelry and Marketplace set to launch in early Fall.
You balance your work with "Her future Coalition" and passing along a valuable skillset to women. Has the experience inspired elements in how you create your own personal line of jewelry?
Well, I try to, and, motherhood and our wine! Yes, there are definitely cross influences and I think the new Cardamom Jewelry line really exemplifies it most. I do incorporate castings of natural elements in my work and we have incorporated that into Cardamom using seeds and pods. I also spent quite a while studying ancient Indian jewelry, both tribal and fine jewelry of the Maharaja's and incorporated some quintessential elements in the designs such as, bell shapes, sapphires, etc. I wanted the look to really resonate with the women we work with, celebrate them, and, make it something they canreally build upon from a design standpoint. I really poured my soul, all I've learned and all the love for the young women we work with and for the jewelry program, into this work. For my personal line, oftenwhen I return home, I want to make things that are more complicated and are harder to achieve when I am India, due mostly to tool and supply limitations. I love being able to explore something a little different with my personal line and try and hold onto to the love, inspiration and growth and just keep pushing myself (and often the materials I work with). Then, when I learn something new, I get to take that knowledge with me to India.
What inspires you in your design aesthetic and which artists do you think of as influences?
Natural things, that has always been it for me: the sacred geometry in the cavities of shells, the textures nature creates from cork to sea urchin shells, the texture of lava rock to the opposing bright luster of a pearl, gemstones in rough forms or with interesting character. I love to riff off of mother nature and so frequently feel like my work is a collaboration with her. I'm also truly inspired by ancient jewelry, the industrial elements, and classic design. And, I love how it looks now. There is always a part of me that loves the idea of ancient jewelry and treasure raised from a shipwreck, and at times, I try and achieve that. I admire so many artists and with regards to modern gold-smithing. I remember being blown away by the rustic, chunky, beautiful aesthetic of Todd Reed and how he uses incredible stones. Kent Riable's granulation work is other worldly, an ancient technique modernized but still celebrating the past. I also love Ronda Coryell's work and particularly her ancient bronze bangles highlighted with modern gold metalsmithing and granulation. She was also a wonderful teacher, and I've been very fortunate on the teacher front studying with Alan Revere, Ronda Coryell, Vasken Tanielian, Michael David Sturlin and his incredible staff at the Revere Academy, and with Jeanette Caines and her staff at the Jewelry Arts Institute. I also learned a great deal from Karen Gilbert, she has taught to me how to think about jewelry and adornment differently and much less traditionally, and, really focus critically on my own work and examine and modify some of my process. This includes, embracing the aspect of making I truly love to do most and designing based on the joy that gives me while trying to incorporate it more. For me hands down that is torch work.
Your husband and yourself also created and produce Elevate Wines. Was winemaking always a passion? How are you applying your artistic skills to winemaking?
For us, wine had always been a passion. We used our restaurant management positions to taste every wine from every wine representative and winery humanly possibly, and, tried to learn as much as we could. I've always really been enamored with the idea of winemaking and goldsmithing both being ancient crafts; beautiful processes where both are part art and part science. While my husband is the winemaker for Elevate and manages the winemaking process, I am able to express myself a lot in the branding, messaging and marketing. Conceptually, Elevate has multiple meanings and most obviously is a nod to our Lake Tahoe roots together, where we met our dear friend and business partner, and, where our love of wine developed. Artistically, we decided on a Rorshack-ish label, while it referencese snow blowing off a mountain, it encapsulates a bit of our philosophy that the way the customer interprets wine for themselves is the best way. We also focused on affordability and on quality, as many high end wines aren't approachable for many; including us. We wanted to deliver something exceptional, but, that you could also open on a Tuesday evening, elevating the wine experience for all. That it would be such great quality that even if you could afford a high-end, single vineyard wine seven days a week, you would also still love Elevate wines. That has always been very important to us, especially now withwhat is going on in the world.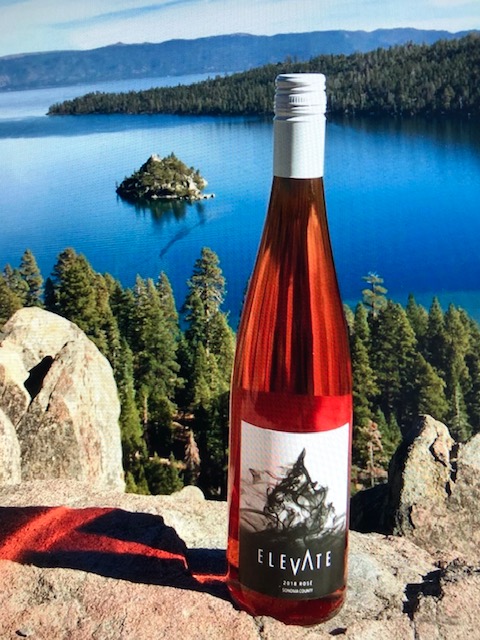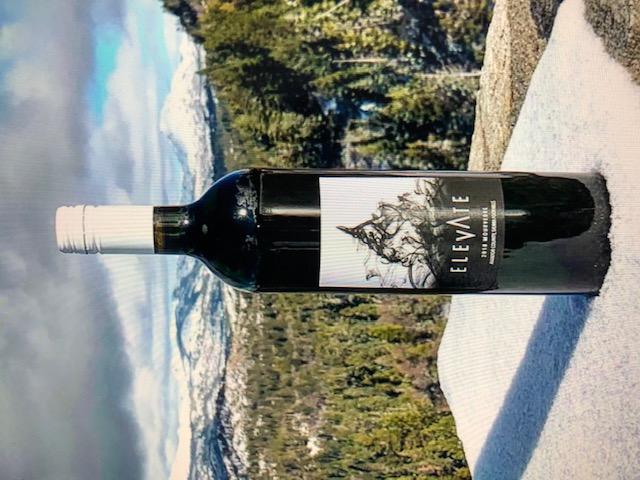 And lastly, under these times of Covid - how are you coping with the reality of this? I am also curious, if you find your work changing based on what has happened?
It has been really difficult to be honest. Goldsmithing keeps me sane, it is a very zen activity and one of the reasons our young metalsmiths in India find it so therapeutic. With schools closed it has been very difficult to get into my studio and create as I am caring for my 5 year old. I'm just trying to roll with the change, and embrace the time together. But that also means, accomplishing what I need to do at some very off hours. It has also made me think a lot about jewelry and how and why we wear it and what we are reaching for in the jewelry box now and what are we celebrating. While I have not been able to change my actual work much yet, there is no doubt my ideas are evolving based on the common Covid experience. I think to make the proverbial "pivot' we all need to adapt and change. I don't think we can presume to be doing the same thing we were two months ago. And, I am trying to use this experience to adapt and grow. I'm also working more in the local community with local vendors as the experience of shopping morphs; it isn't all about online and purchasing meaning pieces of jewelry will never totally go away. There is no real replacement yet for feeling the weight or warmth of a gold piece in your hand, the pearl's true nacre, holding an earring up to see how interfaces with your jawline or seeing a stone's true character, in person. So everyone is trying to figure out how best to accomplish these things and we need to work together to accomplish it.